2017-08-12 14:39
Jennie Stenerhag and Jonas Ahlstrand won Cykelvasan 2017
Jennie Stenerhag and Jonas Ahlstrand won the mountain bike race Cykelvasan 2017. This was Stenerhag's third victory in a row and fourth in total. It was the first Cykelvasan win for road cycling professional Jonas Ahlstrand. Cykelvasan 90 between Sälen and Mora ran today for the ninth year in a row with 13,000 registered participants! Read more and watch the finishes.
For the second time, the women's competition class had their own start 45 minutes ahead of the men, and a quartet consisting of Falu CK-cyclists Jennie Stenerhag and Hanna Bergman, as well as Norwegians Hildegun Gjertrud Hovdenak, winner 2014, and Borghild Lövset took command of the race early on.
Hovdenak was unlucky enough to have her bike chain jump off when slightly more than fifty kilometres remained. She watched the other three speed ahead and away.
Halfway Jennie Stenerhag won the Hill Prize in Evertsberg with Hanna Bergman and Borghild Lövset on her heels. The trio then stuck together until the deciding moment when the two Falu CK-cyclists got a small advantage over the Norwegian when passing the Aukland bridge, and then past the Zorn museum onto the finishing stretch.
On the finishing stretch Stenerhag was fastest and won for the third year in a row. Jennie also won in 2012. Hanna Bergman, who won the first Cykelvasan in 2009, was a second behind and Borghild Lövset four seconds after, in third place. Lövset has come both second and third in previous Cykelvasan races.
"I tend to have a good spurt but I was very nervous at the end and not fully sure I could do it. It's such a big competition that means so much. The biggest in Sweden. Even the only one shown on TV," said Jennie Stenerhag.
Jennie commented on the final part of the race:
"When Hanna pulled those last two kilometres, I thought 'if I can just sit on her wheels and go from the roundabout, it should work'."
Taking home the Cykelvasan win for the third year in a row means a lot to 42-year-old Jennie who lives in South Africa during large parts of the year.
"It's a great joy. I barely have words for it. Being able to win three times in a row feels incredible," Jennie said about her triumph.
The three in the lead worked together and the other cyclists ended up far behind.
"We collaborated very well and I would say that we all pulled equally. It felt a bit like all three were glad to know we'd get one of the top three spots."
Watch the ladies' finish:
Men
In the men's class, a quartet of bikers passed Mångsbodarna; Niklas Gustavsson, Viktor Junell, Stefan Sunnerberg and Hannes Bergström Frisk, with a lead of about 40 seconds to the rest. But in Risberg the leading group was, once more, very large, with Niklas Gustavsson at the head.
Emil Lindgren took the Hill Prize in Evertsberg and here a group of seven men got a lead of about 40 seconds. Four of them were teammates of Lindgren from Team Serneke Allebike: last year's winner Lucas Eriksson, Johan Norén, Dennis Wahlqvist and Michael Olsson. Also the Norwegian master Fredrik Haraldseth and Matthias Wengelin, winner of the first Cykelvasan in 2009.
In Oxberg there were still seven men in the leading group, where Emil Lindgren held the lead. With 19 kilometres left in Hökberg the seven still had a lead of about 52 seconds. In Eldris with barely 10 kilometres to the finish in Mora, a group of six men approached with road cycling professional Jonas Ahlstrand, Team Ormsalva, at the head. They were then 21 seconds behind.
"We were a good group coming up from behind. We never lowered the tempo. It was perfect that we caught up there. We had to be cunning," said Ahlstrand.
A few kilometres later they had caught up with the leading group which boded well for spurting cannon Ahlstrand. According to Roberto Vacchi, Ahlstrand is one of Europe's best spurting cyclists.
"You can't sit far back. I was second in the second-to-last curve and then I just had to go all in. I felt that I got a gap quite early," Ahlstrand explained, continuing: "I know what I can do. Even if I am tired I still have that last bit left."
What does it mean to win Cykelvasan?
"It means a tremendous amount to me but mostly to the team supporting us. We have a good mentality and a good gang," said Jonas.
Team Serneke Allebike had five bikers in the seven-man group that held the lead for so long but could not repeat Lucas Eriksson's win from last year. The team got second and third place through Dennis Wahlqvist and Emil Lindgren.
"They came up fast behind. Everyone wants to catch up and win," said Emil.
"I'm disappointed that we didn't win. We're a strong team and coming second and third is good but… we want to win," Lindgren concluded.
Watch the men's finish:
CYKELVASAN 2018
Registration for the tenth anniversary of Cykelvasan in 2018 opens on Sunday September 10, 2017, at 09:00 on vasaloppet.se
RESULTS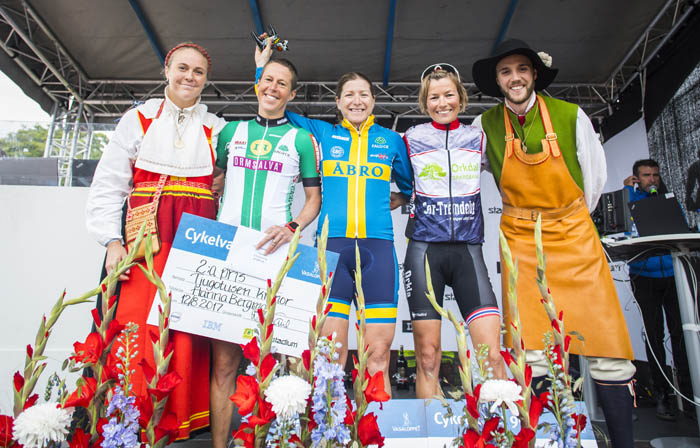 Cykelvasan, competition class 94 km Sälen-Mora, women, 2017-08-12
1 Jennie Stenerhag, (SWE) Falu CK, 03:05:26
2 Hanna Bergman, (SWE) Falu CK, 03:05:27
3 Borghild Løvset, (NOR) Orkla CK, 03:05:30
4 Hildegunn Gjertrud Hovdenak, (NOR) Sogn CK, 03:09:30
5 Åsa Erlandsson, (SWE) Varbergs MTB/Haibike, 03:09:42
6 Clara Lundmark, (SWE) Norbergs CK, 03:12:02
7 Sandra Salinger, (SWE) MIX Sports Club, 03:12:03
8 Nellie Larsson, (SWE) Team Lappierre Sweden, 03:12:09
9 Louise Rundqvist, (SWE) Värnamo CK, 03:12:10
10 Ida Jansson, (SWE) Falu CK, 03:12:27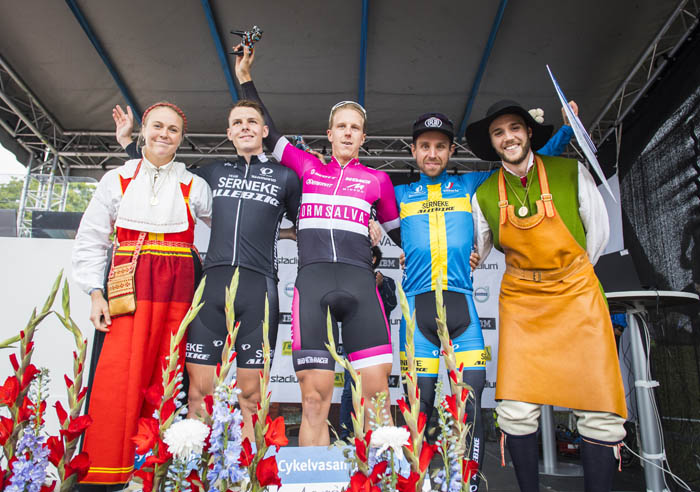 Cykelvasan, competition class 94 km Sälen-Mora, men, 2017-08-12
1 Jonas Ahlstrand, (SWE) Team ORMSALVA, 02:41:26
2 Dennis Wahlqvist, (SWE) Serneke Allebike MTB, 02:41:27
3 Emil Lindgren, (SWE) Serneke Allebike MTB, 02:41:27
4 Lucas Eriksson, (SWE) Serneke Allebike CK, 02:41:28
5 Alexander Wetterhall, (SWE) Team Tre Berg – BIANCHI, 02:41:28
6 Matthias Wengelin, (SWE) Örebrocyklisterna, 02:41:28
7 Fredrik Stephansen, (NOR) Swix Hard Rocx Cycling… , 02:41:28
8 Michael Olsson, (SWE) Serneke Allebike MTB, 02:41:28
9 Johan Norén, (SWE) Serneke Allebike MTB, 02:41:28
10 Christian Amdahl, (NOR) Team Trek Sparebanke…, 02:41:28
Footnote: The Hill Prizes in Evertsberg were won in 2017 by Jennie Stenerhag, time 1.41.10, and Emil Lindgren 1.29.12.
See all the day's finishes from the finish line in Mora
TV
Swedish Television broadcasts a 45-minute summary from Cykelvasan 2017 in SVT1 and SVT Play on Sunday August 13 at 18:15–19:00
SVT SPORT
Cykelvasan winners 2009–2017, men
2009 Matthias Wengelin, Cykloteket RT, 2.43.27
2010 Magnus Darvell, Team Kalas/Pedalogerna, 2.39.00 (Record time!)
2011 Jesper Dahlström, Motala AIF Cykelklubb, 2.47.32
2012 Jesper Dahlström, Team Cykelcity, 2.47.20
2013 Fredrik Ericsson, CK Cykelcity.se, 2.43.01
2014 Johan Landström, Motala AIF/SCOTT 2.45.59
2015 Alexander Wetterhall, Team Tre Berg – BIANCHI, 2.44.35
2016 Lucas Eriksson, Serneke Allebike CK, 2.40.04
2017 Jonas Ahlstrand, Team ORMSALVA, 2.41.26
Cykelvasan winners 2009–2017, women
2009 Hanna Bergman, Falu CK, 3.09.05
2010 Emmy Thelberg, Härnösands CK, 2.54.53
2011 Pia Sundstedt, Finland, 2.56.19
2012 Jennie Stenerhag, Falu CK, 3.02.06
2013 Alexandra Engen, GHOST Factory RT/Jönköpings CK, 2.55.37
2014 Hildegunn Gjertrud Hovdenak, Norway, 2.53.44 (Record time!)
2015 Jennie Stenerhag, Falu CK, 2.57.22
2016 Jennie Stenerhag, Falu CK, 3.07.49
2017 Jennie Stenerhag, Falu CK, 3.05.26
The whole events programme for Vasaloppet's Summer Week 2017
Events in the Vasaloppet Arena
Vasaloppet Summer Week 2017
Fri 11 Aug: Cykelvasan 30. 32 km. Start Oxberg 09:10
Fri 11 Aug: Ungdomscykelvasan. 32 km. Start Oxberg 09:00
Fri 11 Aug: Cykelvasan 45. 45 km. Start Oxberg 11:15
Fri 11 Aug: Cykelvasan Öppet Spår. 94 km. Start Sälen 11:30
Fri 11 Aug: Cykelvasasprinten. 1 km. Lindvallen. Start Sälen 15.00
Sat 12 Aug: Cykelvasan 90. 94 km. Start Sälen, ladies at 07:30, men 08:15 (FULL 170427)
Sat 19 Aug: Ultravasan 45. 45 km. Start Oxberg 09:00
Sat 19 Aug: Ultravasan 90. 90 km. Start Sälen 05:00
Sat 19 Aug: Vasastafetten. 4.5–15 km. Running relay for ten-person teams. Start Sälen 09:00
Sat 19 Aug: Vasakvartetten. 19.1–24.2 km. Running relay for four-person teams. Start Sälen 07:00
Vasaloppet Winter Week 2018
Fri 23 Feb: Kortvasan. 30 km. Start Oxberg.
Sat 24 Feb: Tjejvasan. 30 km. Start Oxberg.
Sun 25 Feb: Ungdomsvasan.
Sun 25 Feb: Öppet Spår Sunday. 90 km. Start Sälen.
Mon 26 Feb: Öppet Spår Monday. 90 km. Start Sälen.
Tue 27 Feb: Halvvasan. 45 km. Start Oxberg.
Fri 2 Mar: Stafettvasan. 9–24 km. Five-person teams. Start Sälen.
Fri 2 Mar: Nattvasan. 90 km. Two-person teams. Start Sälen. (FULL 170319)
Sat 3 Mar: Blåbärsloppet. 9 km. Start Eldris.
Sun 4 Mar: Vasaloppet. 90 km. Start Sälen. (FULL 170319)