Collect start number and data chip
All our participants must wear a start number and data chip. These are collected at the location you chose when registering; at our race offices at the Mora Meeting Place or the Vasaloppet Trade Fair in Lindvallen, Sälen. You can change the location through My Pages up until the beginning of August. Start numbers and data chips that are not collected the day before the race will be at the race office at your start location.
Start number and chip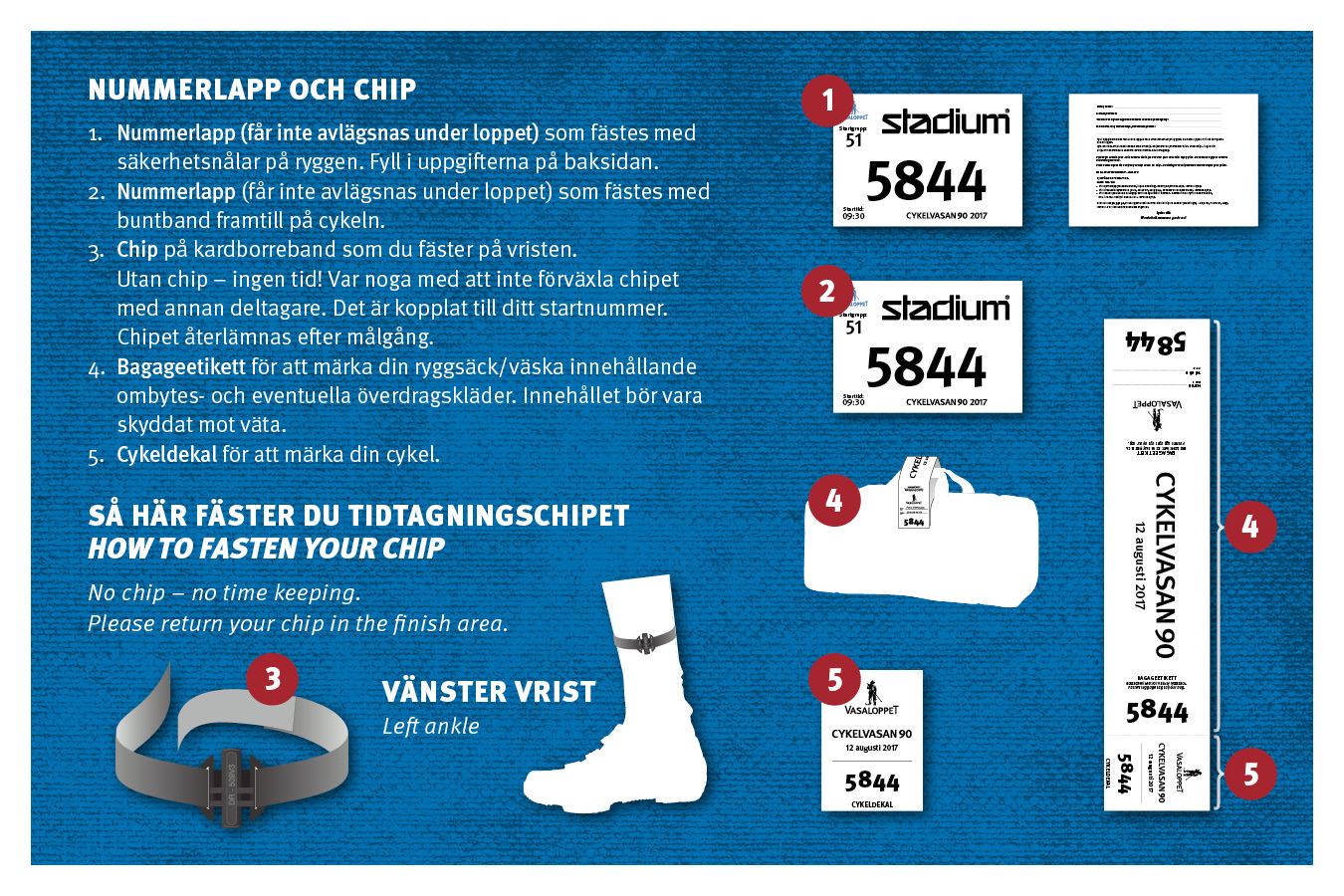 1. Start number (may not be removed during the race) to be attached to your back using safety pins. Fill in your information on the back of the start number.
2. Start number (may not be removed during the race) to be attached to the front of your bike using cable ties.
3. Chip with velcro strap to be attached to your left ankle. No chip – no time keeping! Make sure you don't mix up your chip with that of another participant. It is linked to your start number. The chip is returned after the finish.
4. Luggage label to mark your backpack/bag containing a change of clothes and any coveralls. The contents should be protected from wet.
5. Bike sticker to mark your bike.
What to do with your clothes
Pack a change of clothes in a backpack or bag. Label the bag using the luggage label you received when collecting your number bib. Leave your luggage in good time at the specified location in the start area. Your bag will then be transported to Mora.
Important:
1. Remember to protect your change of clothes from getting wet.
2. The trucks are marked by start number.
3. Put your backpack/bag on the correct truck.
4. Do not send your things by private transport.
How the start works
The ladies' competition class starts at 07:30, 45 minutes before the men's competition class.
The men's competition class starts at 08:15 as a joint start. The first group in the leisure class starts at 08:30 and after that a new group starts every five minutes.
You should be inside the start area at least 30 minutes before your start. The entrance is at the back end of the start area. In order to get correct results it is important that you start in the correct group. If you are seeded your seeding is registered in the data chip, which is connected to your start number.
The gates opens for the ladies startgroup 0 at 06:30 am.
The gates opens for start group 1-13 at 06:45 am.
The gates opens for start group 14 and onwards approximately 60 minutes before start time.
Site map – Sälen start (pdf)
| | | | |
| --- | --- | --- | --- |
| Class | Start group | Start number | Start time |
| Competition 90 K | | | |
| Women | 0 |  1-200 |  07:30 |
| Men | 1 |  301-600 |  08:15 |
| Men | 2 |  601-900 |  08:15 |
| Men | 3 |  901-1300 |  08:15 |
| Men | 4 |  1301-1550 |  08:15 |
| | | | |
| Class | Start group | Start number | Start time |
| Leisure 90 K | 5 | 2000–2269 | 08:30 |
| | 6 | 2270–2539 | 08:35 |
| | 7 | 2540–2809 | 08:40 |
| Seeding group | 8 | 2810–3079 | 08:45 |
| | 9 | 3080–3349 | 08:50 |
| | 10 | 3350–3619 | 08:55 |
| | 11 | 3620–3889 | 09:00 |
| Seeding group | 12 | 3890–4159 | 09:05 |
| | 13 | 4160–4429 | 09:10 |
| | 14 | 4430–4699 | 09:15 |
| | 15 | 4700–4969 | 09:20 |
| Seeding group | 16 | 4970–5239 | 09:25 |
| | 17 | 5240–5509 | 09:30 |
| | 18 | 5510–5779 | 09:35 |
| | 19 | 5780–6049 | 09:40 |
| Seeding group | 20 | 6050–6319 | 09:45 |
| | 21 | 6320–6589 | 09:50 |
| | 22 | 6590–6859 | 09:55 |
| | 23 | 6860–7129 | 10:00 |
| Seeding group | 24 | 7130–7399 | 10:05 |
| | 25 | 7400–7669 | 10:10 |
| | 26 | 7670–7939 | 10:15 |
| | 27 | 7940–8209 | 10:20 |
| | 28 | 8210–8479 | 10:25 |
| | 29 | 8480–8749 | 10:30 |
| | 30 | 8750–9019 | 10:35 |
| | 31 | 9020–9289 | 10:40 |
| | 32 | 9290–9559 | 10:45 |
| | 33 | 9560–9829 | 10:50 |
| | 34 | 9830–10099 | 10:55 |
| | 35 | 10100–10369 | 11:00 |
| | 36 | 10370–10639 | 11:05 |
| | 37 | 10640–10909 | 11:10 |
| | 38 | 10910–11179 | 11:15 |
| | 39 | 11180–11449 | 11:20 |
| | 40 | 11450–11719 | 11:25 |
| | 41 | 11720–11969 | 11:30 |
| | 42 | 11970–12219 | 11:35 |
| | 43 | 12220–12469 | 11:40 |
| | 44 | 12470–12719 | 11:45 |
| | 45 | 12720–12969 | 11:50 |
| | 46 | 12970–13219 | 11:55 |
| | 47 | 13220–13469 | 12:00 |
| | 48 | 13470–13719 | 12:05 |
| | 49 | 13720–13969 | 12:10 |
| | 50 | 13970–14219 | 12:15 |
| | 51 | 14220–14469 | 12:20 |
| | 52 | 14470–14719 | 12:25 |
| | 53 | 14720–14969 | 12:30 |
| | 54 | 14970–15219 | 12:35 |
| | 55 | 15220–15469 | 12:40 |
| | 56 | 15470–15719 | 12:45 |
| | 57 | 15720–15969 | 12:50 |
| | 58 |  15970-16219 | 12:55 |
| | 59 |  16220-16469 | 13:00 |
| | 60 |  16470-16719 | 13:05 |
| | 61 |  16720-16969 | 13:10 |
| | 62 |  1670-17219 | 13:15 |