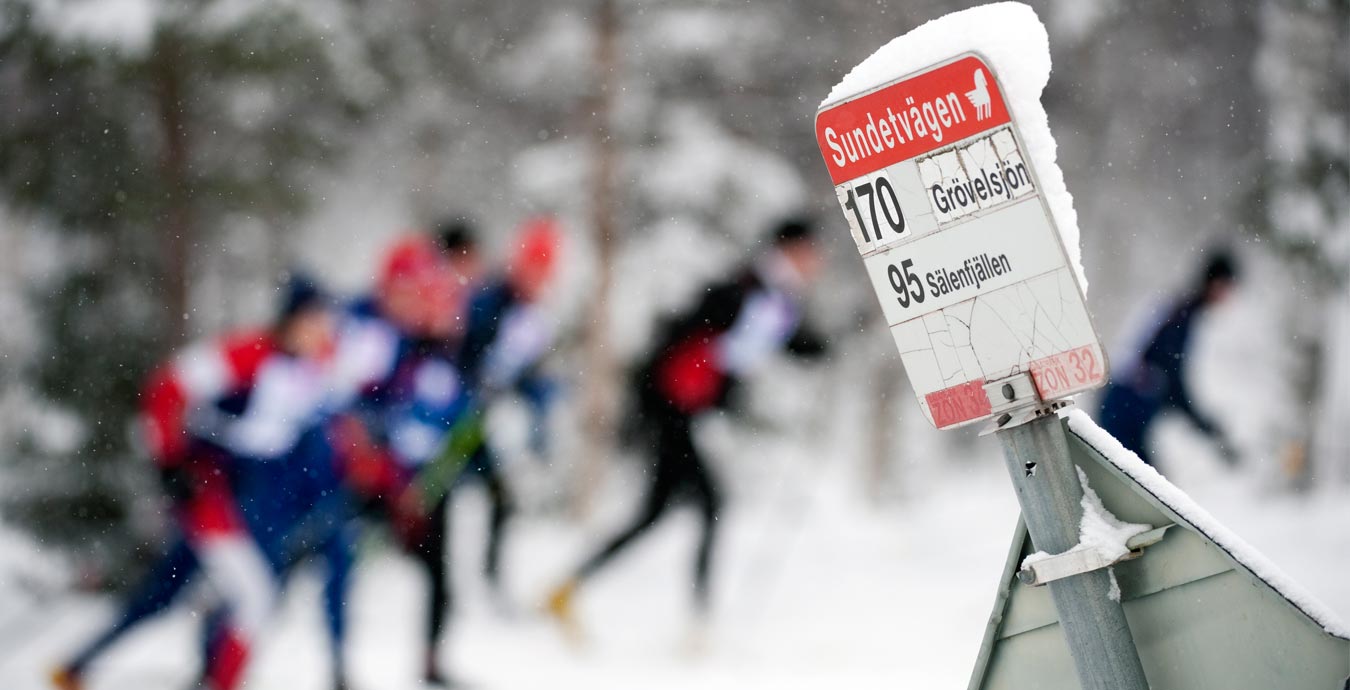 Arrive to the race well rested! Our busses can get you to the start place in good time before the start, and save you the stress of dealing with traffic and full parking spaces. Leave the car at home and book a bus ticket; you'll be doing a favour to yourself and the environment. Booking your bus ticket online is also cheaper than buying it on location.
You can buy tickets for Vasaloppet's official busses via the links below, where you will also find all the departure times.
Vasaloppet invites every participant to buy a bus ticket for their race. If you take the bus you can be sure of getting to the start area in good time.
Booking – Vasaloppet's Winter Week 2020
• – Friday 21/2 Kortvasan
• – Saturday 22/2 Tjejvasan
• – Sunday 23/2 Öppet Spår Sunday
• – Monday 24/2 Öppet Spår Monday
• – Tuesday 25/2 Halvvasan
• – Friday 28/2 Stafettvasan – Free bus transport; the bus routes that must be booked in advance are Mora–Sälen, Mora–Mångsbodarna, Sälen–Mångsbodarna and Mora–Oxberg start.
• – Friday 28/2 Nattvasan 90 and Nattvasan 45
• – Saturday 29/2 Busses for Nattvasan 90, Nattvasan 45 and Vasaloppet
• – Sunday 1/3 Vasaloppet
The busses to Ungdomsvasan on Sunday 23 February and Blåbärsloppet on Saturday 29 February are free and must not be booked.
Booking and advanced purchase
Bus tickets for the Winter Week will go on sale at the end of November at vasaloppet.se. During the events bus tickets are also sold at the entry to the busses in Mora, and at the information counter in Sälen and Mora.
We recommend advance booking
It is possible to buy your ticket as you are getting on the bus, but if you choose this option we cannot guarantee a seat, as tickets may be sold out. We therefore advise you to buy a ticket in advance, either through our website or at the race offices in Mora or Sälen. There are a limited number of tickets.
The estimated travel time between Mora and Oxberg is about 1 hour, while the travel time between Mora and Sälen is about 2.5 hours. Busses depart as they fill up. Note that there are two types of departures; busses with fixed times and busses departing continuously between fixed times.
There is a service fee of 15 SEK per order. There are no refunds on bought tickets. Bus tickets are not personal but they are tied to the times booked. For secure second-hand re-sale of tickets we refer you to Tickster Resale. At present, Vasaloppet only offers bus transport to participants, not spectators.
Practical information about our busses
In Mora the busses depart from the Vasaloppet Trade Fair near Vasaloppet's House and in Sälen the busses depart from OKQ8 in central Sälen. Busses and material transports depart from the same locations during the summer, but bicycles are transported on lorries. Busses from Mora back to Sälen after the race will make a stop at the Vasaloppet start before continuing to OKQ8 in central Sälen. During the summer races, the busses stop at the Vasaloppet start area and then at Lindvallen. When boarding, please tell the bus driver where you want to get off the bus.
Skis and ski poles – pack in a ski bag.