There are several ways to follow specific participants. With our services you can receive continuous updates and time reports.
The Vasaloppet app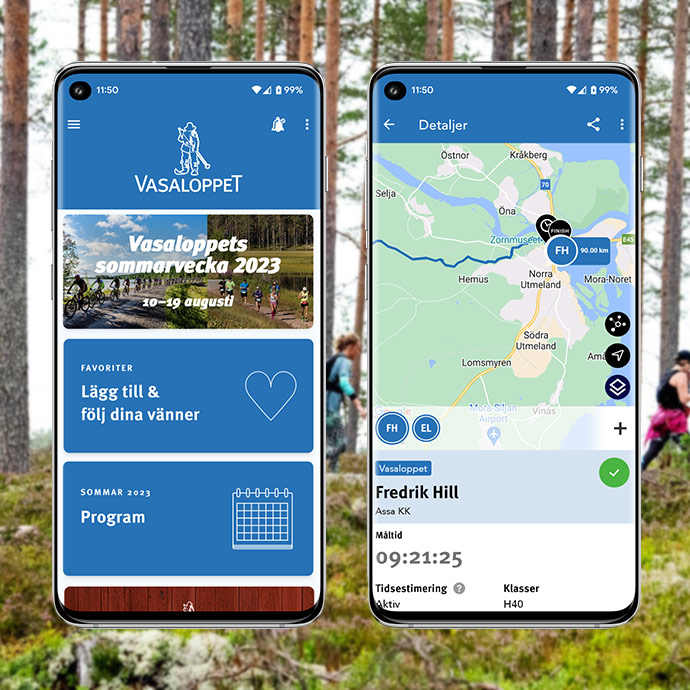 Install the official Vasaloppet app. Stay up-to-date on everything happening with Vasaloppet – all year round. Among other things the app has
our latest news
inspiration for training and competition
information for participants and visitors
possibility to follow your favourites on their trip down towards Mora and get push notifications updating you on their progress during their race.
Get the app in Google Play
Get the app in App Store
The app for following participants
If you want to follow a participant, you need to unlock the Follow favourites feature by paying 27 SEK (and similar cost in other currency). You can then add up to 25 favourites in our summer races.
Click on Favourites: Add and follow your friends and search the start list by name (first name, last name).
Click on the plus-symbol for adding as a favourite.
Unlock the Follow favourites feature for 27 SEK.
All your favourites are listed in the favourites section.
You can see details for each person when clicking on the name.
You will receive a message from the app when one of your favourites starts, reaches one of the classic Vasaloppet checkpoints, and when they cross the finish line in Mora.
You can have 25 favourites.
Your phone needs to have access to internet and to have coverage in order to be able to receive app messages.
Check your app settings and allow the app to send you push notifications.
Vasaloppet.TV
During Vasaloppet's summer week you can follow our livestreamed events on Vasaloppet.TV. Here you will find camera feeds covering the track and finishing line. All content is in Swedish.
Manual results service
Through our results service you can find complete start lists and results to all our races, except Barnens Vasalopp. The results are published live during the race and are searchable after the race.