2017-11-17 10:36
Vasaloppet November 2017 Update
Snow has begun to fall and the freezing weather is here. 53,000 skiers are now registered for Vasaloppet's Winter Week 2018. Here is an update summarizing, in English, the most interesting news items from Vasaloppet's Swedish website over the past months.
Ski tracks in both Mora and at the Vasaloppet start in Sälen
Thanks to conserved snow from last winter the Vasaloppet Arena has now, as early as November, been able to open for skiing. Since Thursday November 9 there have been 4 km of ski tracks in Mora open, with a proper inauguration on Saturday November 11. It was a weekend with many exciting and fun activities in both Mora and Sälen. Lectures, the unveiling of the 2018 Vasaloppet motifs (see below), the big opening of IFK Mora's new club house, and it was even possible to experience a real Vasaloppet start in Sälen.
Registration open for the "new" Ungdomsvasan!
This past winter celebrated our tenth Ungdomsvasan. Today, Thursday, registration opens for the eleventh race, and there are some changes for the winter 2018 season.
"We are moving the entire Ungdomsvasan into the arena to give youths the opportunity to ski in these classic tracks and get the right Vasaloppet feeling," says Johan Eriksson, Development Manager at Vasaloppet.
Moving the course from the Hemus ski arena to these forefathers' tracks also results in different course lengths in Ungdomsvasan 2018.
"We've gone back and forth with the Swedish Ski Association and reached a good conclusion," says Johan Eriksson.
Classes in Ungdomsvasan 2018 will range between ages 11 and 16. Those 15 to 16 years old start in Hökberg, ski 19 kilometres and compete for spurt prizes in Eldris. For ages 11–12 and 13–14 it is a 9 kilometre race starting in Eldris with a chance for spurt prizes in Hemus.
"For the youngest, 9–10 years old, we will now offer the 9-kilometre Blåbärsloppet as an alternative, where they can ski with a parent or other adult. 9 kilometres is too long for a competition race for skiers of that age," says Johan Eriksson.
Distance heating from E.ON in the Vasaloppet Trade Fair in Mora 2018
It started at the end of October. Building the pipeline that will supply long-distance heating to the Vasaloppet Trade Fair's 4,200 square metre tent during Vasaloppet's Winter Week 2018. An investment that will give Vasaloppet local and sustainable heat for many years to come.
"We are entirely dependant on a sustainable arena and our collaboration with E.ON is an important step towards the future," says Eva-Lena Frick, Vasaloppet's CEO.
The climate issue is one of Vasaloppet's biggest challenges, since snow and cold are vital elements needed for the winter races to take place.
"Reducing our effect on the climate is one of our absolutely most important questions, and finding a permanent solution for heating the trade fair here in Mora feels fantastic, of course. It's a step in the right direction," says Eva-Lena Frick.
Never stood on skis – class 6 at Centrumskolan in Växjö coached for Ungdomsvasan 2018
They have fled over mountains and swum across oceans. They have hidden from dangers and managed some of the hardest challenges in this world. Now, class 6 at Centrumskolan in Araby in Växjö are choosing to take on a new challenge: learning to ski and participating in Ungdomsvasan during Vasaloppet's Winter Week 2018.
"None of them have ever stood on a pair of skis before. This will be an incredibly cool thing for them to try," says David Schylander, gym teacher at Centrumskolan.
In the middle of August Vasaloppet and Swix announced Vasaloppet's school challenge on social media and sent over 4,000 postcards to middle school classes, urging teachers to apply. The selected class would get the needed equipment, coaching, travel arrangements, accommodation and start places in Ungdomsvasan 2018. And the response was massive. 120 applications from around the country came in, each more inspiring than the next.
"This became much larger than what we anticipated, which is fantastic. The applications have really moved us in the jury deeply and we've come to understand that there is a great need out in the schools for this type of activity," says Lena Hermansson at Vasaloppet.
After the jury's careful deliberation the final decision was made, selecting class 6 at Centrumskolan in Araby in Växjö. A class with 36 students who originally come from Somalia, Kurdistan, Romania, Bosnia, Yemen, Russia, Hungary, Iran and Palestine. In their application the class wrote: "Together we are part of the world's culture. Now we want Sweden's culture and history to become part of us and our future."
Vasaloppet stands for fitness and health. In an increasingly sedentary society our wish is to get more people moving and out in nature. Vasaloppet's school challenge is a collaboration between Vasaloppet and Swix where part of the income from selling official Vasaloppet equipment goes to getting more youths in motion and out onto the ski tracks.
Volunteers needed for Vasaloppet's Winter Week 2018
Are you an engaged and service-minded person? Do you want to experience the famed Vasaloppet spirit on location in Mora and Sälen, and to be part of the world's oldest and largest cross-country ski competition? Apply now to volunteer at Vasaloppet's Winter Week 2018!
Vasaloppet will repeat its successful work with volunteers as started up this winter. During the Winter Week 2018 there will be 30 or so volunteers taken on to help out during the country's most beloved event.
Assignments vary and can include anything from handing blueberry soup to skiers in the track to sorting bags after finishes in the various race. The Winter Week 2018 starts with Kortvasan on Friday, February 23 and finishes with Vasaloppet on Sunday, March 4. We would like your application no later than January 7, 2018, but the earlier the better!
The Vasaloppet Collection 2018
It's now here; the Vasaloppet Collection 2018 with a design that builds on the lines and meetings found in cross-country skiing. The collection consists of functional clothing items where design, fit and material have been selected with regard to the challenge you are about to undertake.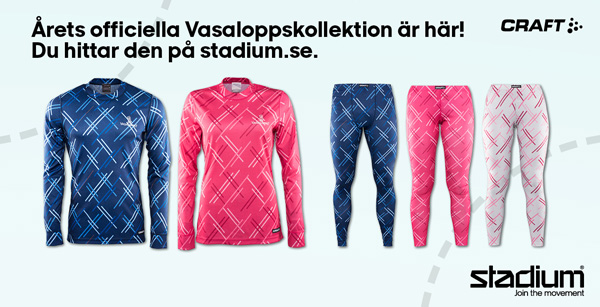 The Vasaloppet Collection is developed in collaboration with Craft and Stadium and is only available for purchase in selected Stadium stores and at stadium.se. (Unfortunately stadium.se can currently only ship within Sweden.) This year's design has gathered inspiration from history, where forefathers' tracks stretch out across the landscape between Sälen and Mora.
Anders Ståhl from Leksand designed the Vasaloppet motifs 2018
At a press conference on November 11 in Mora, in connection with Vasaloppet's opening weekend, the official 2018 Vasaloppet motifs were unveiled. The two pieces go under the names "Vinterkrans" (Winter Garland) and "Sommarhjul" (Summer Wheel) and are painted by artist Anders Ståhl from Leksand.
"This is an honour. Getting to be part of Vasaloppet through my art feels incredible and I hope that the participants will like these motifs," says Anders Ståhl.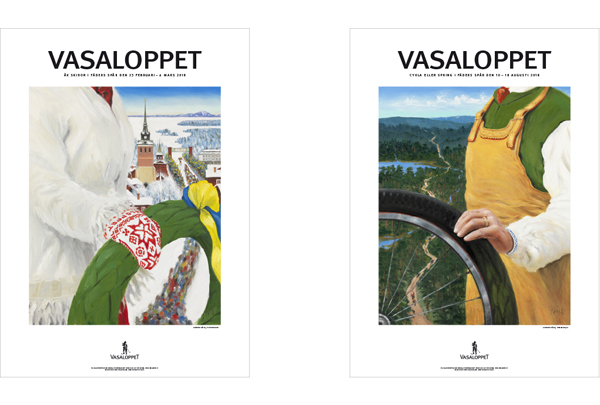 The annual posters with Vasaloppet motifs are a tradition dating back to 1935. These posters are an important symbol for Vasaloppet and have, over the years, become collectables. Historically, the motifs have been developed in different ways and since 2015 Swedish artists are invited to compete for the assignment. The designs should connect to Vasaloppet's core: tradition, experience and challenge.
For the fourth year in a row artists from all over Sweden have been invited to compete, creating works of art to leave their mark on Vasaloppet's winter and summer events. This year the jury choose between three different suggestions and in the end the choice fell on Anders Ståhl with the following motivation: "Anders Ståhl has created two designs that, in a colourful and subtle way, unite Vasaloppet's history and tradition with renewal and a belief in the future. With playfulness he manages to capture Vasaloppet's inherent soul and convey an experience that is near and dear to so many."
The new designs will now be seen on posters, prints and diplomas presented to the over 90,000 participants in Vasaloppet's winter and summer events 2018. Additionally the winners in Vasaloppet's women and men classes will be awarded a copy each from a limited series of numbered art prints that will also be available for sale.