Start list
In the start list, you will find all participants registered for our races.
Collect start number and data chip
All our participants must wear a start number and data chip. These are collected at the race office at the start in Sälen or on Kyrkogatan (the pedestrian street) in Mora. Start numbers and data chips that are not collected the day before the race will be at the race office at your start location. On the page Opening Hours you can see when our race offices are open.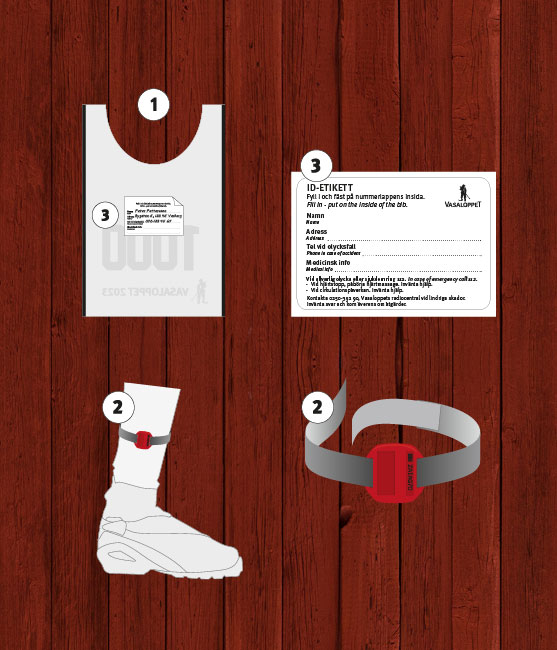 The bag contains
1. Start number
The start number should be worn, and clearly visible, when you enter the start pen.
2. Chip with velcro strap
Thread the velcro strap through the chip and attach to your right ankle. The chip is used for timekeeping and it's connected to your start number. The chip must be returned directly after the finish. Participants who do not return their chip will be charged 300 SEK.
3.  ID-tag (sticker)
Fill in your information and attach the sticker to the inside of your start number.
Getting to the start
These buses are free and do not need to be booked. Since our bus capacity and parking area is limited we prefer to see a maximum of one leader or parent accompanying each participant. Our recommendation is to be out in very good time.
Pack skis and ski poles in a ski bag.
Start Hökberg
Participants and leaders or parents can drive to the start. There is also a bus to the Hökberg start departing from Prostgatan in Mora at 09.00. A return trip will depart from Hökberg at 11.00.
Start Eldris
Participants and leaders or parents can only get to the Eldris start via bus, which leaves from Prostgatan in Mora at 08.00–09.30. Return trips by bus will run continuously as the buses fill up, starting at 09.45 with the last departure at 11.00.
Wax services
At the start in Eldris and Hökberg it's possible to get free grip wax assistance, from 08.30 at the startmorning. Come early!