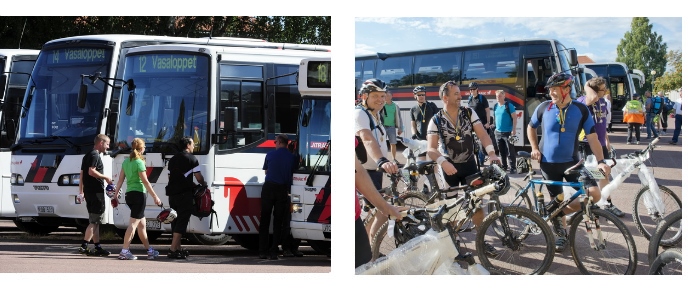 Bus to start
Arrive to the race well rested! Our busses can get you to the start place in good time before the start, and save you the stress of dealing with traffic and full parking spaces. Leave the car at home and book a bus ticket; you'll be doing a favour to yourself and the environment. Booking your bus ticket online is also cheaper than buying it on location.
Read more and book
Take the SJ train
Easy, comfortable and green – take the train to Mora!
Massage with Ormsalva
Experience a quicker, better and more enjoyable recovery after your bike race. Take this chance to book a massage treatment in advance.
Accommodation
Hotel, hostel, camping, a personal cottage, or perhaps a simple sleeping space on the floor of a school? There are many different types of accommodation in northern Dalarna. Here you can read about where to book your lodgings.
Traffic information
The traffic situation around Mora is often very strained in connection with our events. On race days there are temporary changes along certain roads, making some roads one-way, for example.
The first weekend is all about cycling, starting on Thursday and Friday with the short invitational race Cykelvasasprinten (1 km) by Lindvallen in Sälen. Cykelvasan Öppet Spår (94 km) also runs on Friday, starting at the classic Vasaloppet start in Berga by in Sälen, just like the main bike race Cykelvasan 90 (94 km) on Saturday. The shorter Sunday races Ungdomscykelvasan (32 km), Cykelvasan 30 (32 km) and Cykelvasan 45 (45 km) start in Oxberg.
The running races take place on the second weekend of the Summer Week; Saturday, to be exact. There are two relay races and two individual races: The ten-person relay Vasastafetten (with sections of 4.5–15 km) and the four-person relay Vasakvartetten (with sections of 19.1–24.2 km) both start in Sälen. The prestigious running race Ultravasan 90 (90 km) starts in Sälen as early as 05:00 while the shorter version, Ultravasan 45 (45 km), starts in Oxberg.
Every year Vasaloppet attracts about 100,000 participants. Which race is right for you?