Training is one thing but there is much more that needs sorting before, during and after your race. For example there is accommodation and the journey to the start. To make things easier and to let you focus completely on the race itself we have developed several practical services to help you get even more enjoyment out of your Vasaloppet experience.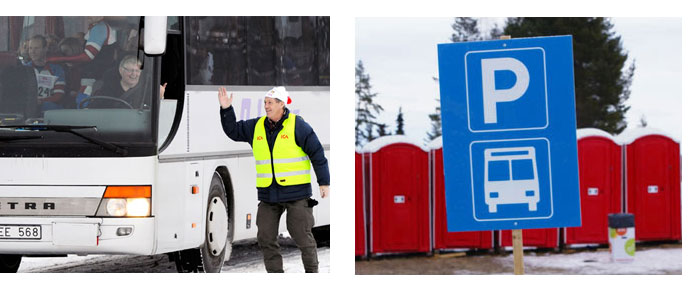 Bus to start
Arrive to the race well rested! Our busses can get you to the start place in good time before the start, and save you the stress of dealing with traffic and full parking spaces. Leave the car at home and book a bus ticket; you'll be doing a favour to yourself and the environment. Booking your bus ticket online is also cheaper than buying it on location.
Read more and book >

Waxing service
Warm and sunny or cold and snow? Let us help you with the waxing! Vasaloppet's official ski waxing service in Mora and Sälen is available for all Winter Week races.
Accommodation
Hotel, hostel, camping, a personal cottage, or perhaps a simple sleeping space on the floor of a school? There are many different types of accommodation in northern Dalarna. Here you can read about where to book your lodgings.

Follow participants
There are several ways to follow specific participants. With our services you can receive continuous updates and time reports, and monitor as many people as you like.

Traffic information
The traffic situation around Sälen and Mora is often very strained in connection with our events. On race days there are temporary changes along certain roads, making some roads one-way, for example.
Vasaloppet's Winter Week 2020
Friday, February 21 • Vasaloppet 30 (Kortvasan) • 30 km. Start Oxberg
Saturday, February 22 • Tjejvasan • 30 km. Start Oxberg
Sunday, February 23 • Ungdomsvasan • 9 km Start Eldris. 19 km Start Hökberg
Sunday, February 23• Öppet Spår Sunday • 90 km. Start Sälen
Monday, February 24 • Öppet Spår Monday • 90 km. Start Sälen
Tuesday, February 25 • Vasaloppet 45 (Halvvasan) • 45 km. Start Oxberg
Friday, February 28 • Stafettvasan • 90 km. Five-person teams. Start Sälen
Friday, February 28 • Nattvasan 90 • 90 km. Two-person teams. Start Sälen
Friday, February 28 • Nattvasan 45 • 45 km. Two-person teams. Start Oxberg
Saturday, February 29 • Blåbärsloppet • 9 km. Start Eldris
Sunday, March 1 • Vasaloppet • 90 km. Start Sälen (Fully booked)
Vasaloppstrippeln – ski, bike and run Vasaloppet in one year
Vasaloppstrippeln, the Vasaloppet trifecta, is a challenge where participants complete three Vasaloppet races during one calendar year. Ski, bike and run 90, 45 or 30  kilometres in forefathers' tracks.
Vasaloppet's Winter Week takes place every year with several cross-country ski races over the course of ten days, finishing with the classic Vasaloppet on the first Sunday in March. All races run in the Vasaloppet track, in the Vasaloppet Arena; a ninety kilometre scenic nature reserve between Sälen and the famous finish line portal in Mora.
The first race, running on the first Friday, is Vasaloppet 30 from Oxberg to Mora. On Saturday, Tjejvasan runs along the same stretch. Sunday follows with Ungdomsvasan for youths up to the age of 16, starting in Eldris and Hökberg.
Öppet Spår, starting in Sälen, runs on both Sunday and Monday. On Tuesday it's time for Vasaloppet 45, which starts in Oxberg and runs along the Oxberg lake before joining up with the Vasaloppet track.
Friday means Stafettvasan, a relay race that splits the course from Sälen to Mora into five sections. The night to Saturday is when Nattvasan 90 and Nattvasan 45 take place, the only two races during the Winter Week where skate style is permitted. On Saturday everyone can try the last 9 kilometres in Blåbärsloppet. The week warps up with the world's biggest cross-country ski race, the massive Vasaloppet where 15,800 registered participants ski along what's been called the "main artery of Swedish skiing"!
But Vasaloppet's Winter Week is so much more than just skiing. For example, don't miss out on the Vasaloppet Trade Fair in Mora which has about 200,000 visitors every year. Or the Vasaloppet festivities in Mora Church, held according to tradition since 1922, with a celebrity holding the ceremonial speech, and the crowning of the year's Kranskulla.
See our short inspirational promotion film from 2017 about our history and our present races: