Start list
In the start list, you will find all participants registered for our races.
Bus to start
Once in place at the event you can take the Vasaloppet buses to the start and back home after your finish. With the buses you're guaranteed to arrive well rested and on time, and you can leave your car at home. Tickets are sold at vasaloppet.se and at the entry to the buses in Mora. We recommend advance booking to secure your place!
Read more and book >
Traffic and transport >
Waxing service
Through Vasaloppet's official wax services you can get your skis waxed before the race. Vasaloppet's wax services can be booked in advance, though the number of pre-bookings is limited.
Collect start number and data chip
All participants must wear a start number and data chip. These are collected at the race office at the start in Sälen or on Kyrkogatan (the pedestrian street) in Mora. Start numbers and data chips that are not collected the day before the race will be at the race office at your start location. On the page Opening Hours you can see when our race offices are open.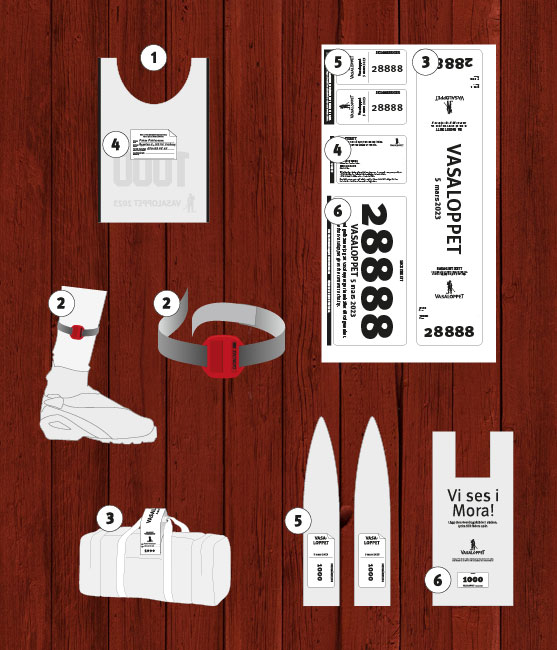 The bag contains
1. Start number
The start number should be worn, and clearly visible, when you enter the start pen.
2. Chip with velcro strap
Thread the velcro strap through the chip and attach to your right ankle. The chip is used for timekeeping and it's connected to your start number. The chip must be returned directly after the finish. Participants who do not return their chip will be charged 300 SEK.
3. Luggage label (sticker)
Attach the label to your luggage so we can identify and sort it. Pack your bag so it's waterproof.
4. ID-tag (sticker)
Fill in your information and attach the sticker to the inside of your start number.
5. Ski labels (2 stickers)
Attach the labels with your start number to the front of your skis when they are dry and warm.
6. Last minute sack and label
Attach the label to the sack, which you can use for coveralls. Seal the sack by tying it shut. If you do not want the contents back, you can check the box to give them to charity.
Start numbers for Nattvasan can be collected from Sunday, February 26, 2023.