How to alter your start position
Your start position is determined by the estimated finishing time you fill in when registering. You can alter the estimated finishing time on My pages up to about four weeks before the race.
Bus to start
Once in place at the event you can take the Vasaloppet busses to the start and back home after your finish. With the busses you're guaranteed to arrive well rested and on time, and you can leave your car at home. Tickets are sold at vasaloppet.se, at the bus entrances, and at the race offices in Sälen and Mora. We recommend advance booking to secure your place!
On the page The Vasaloppet busses you'll find timetables, bus stops and ticket booking. You can also get to the start area by car, in which case we recommend leaving in very good time!
Traffic and transport >
The Vasaloppet busses >
Waxing service
Through Vasaloppet's official wax services you can get your skis waxed before the race. Vasaloppet's wax services can be booked in advance, though the number of pre-bookings is limited.
Collect start number and data chip
All participants must wear a start number and data chip. These are collected at our race offices. Start numbers and data chips that are not collected will be at the race office at your start location. On the page Opening Hours you can see when our race offices are open.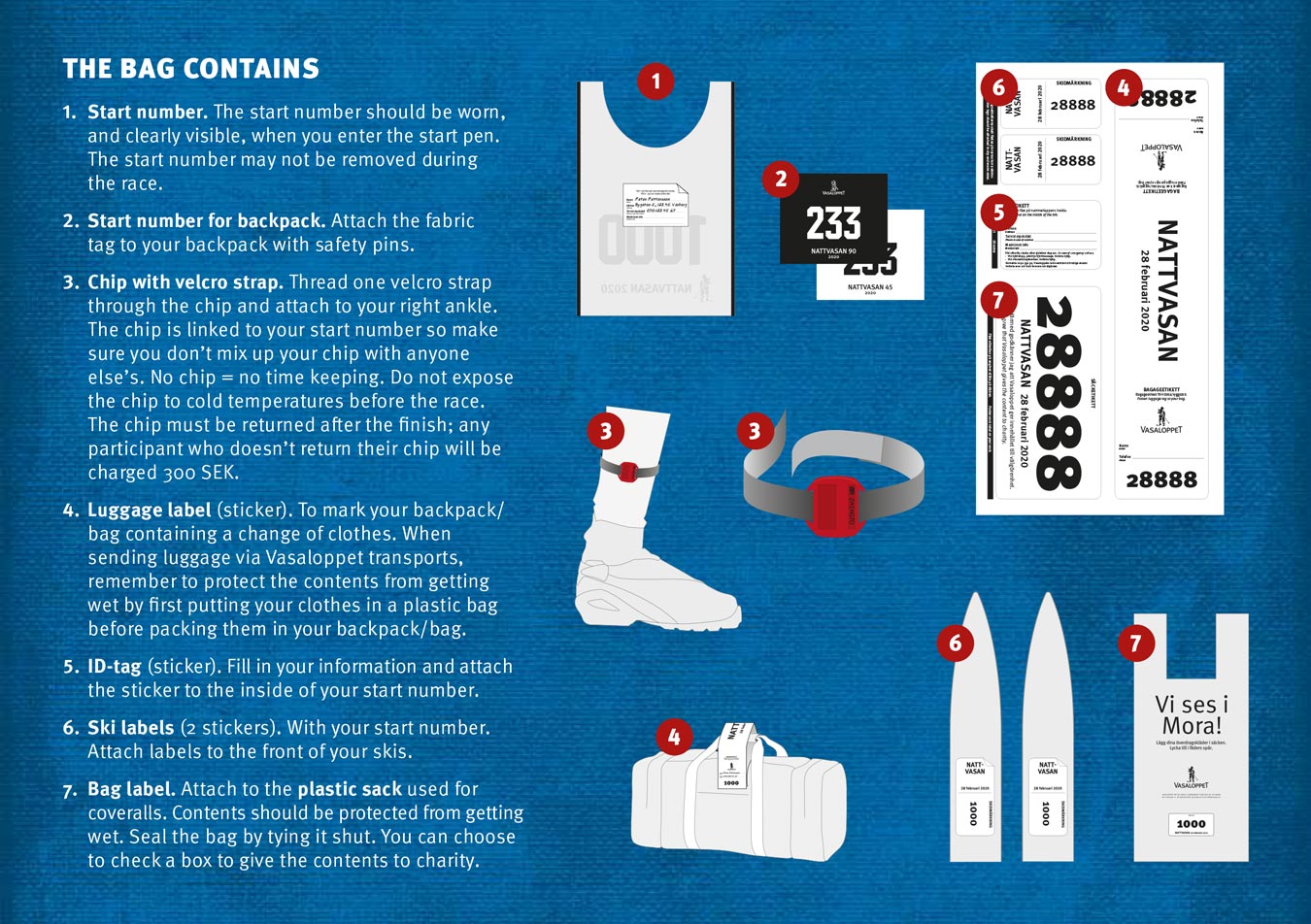 Start numbers for Nattvasan 90 can be collected from Sunday February 23.
GPS positioning via smartphone
Vasaloppet encourages participants to use our app which, during the race, will give live updates of your position. Information about this service will be part of the start certificate sent out during week 7 and will be downloadable on My Pages as well.
The app and service is free to use. GPS updates makes it possible for the organizers, as well as friends and family, to follow your race better via Vasaloppet's monitoring app Vasaloppet vinter and results page. The service is available on iPhone and Android. Make sure your phone is fully charged, and we advice you to equip your phone with an extra battery.