Start list
In the start list, you will find all participants registered for our races.
Collect start number and data chip
All our participants must wear a start number and a chip. These are collected at the race office on Kyrkogatan (the pedestrian street) in Mora. On the page Opening Hours you can see when our race office is open.
Attach the chip with velcro around your right ankle. The chip is valuable and must be returned after the finish. Anyone not returning their chip will be charged 300 SEK. The start number is a tie vest with the number and patch on the front of the chest. You pull it over your head and tie it around your waist.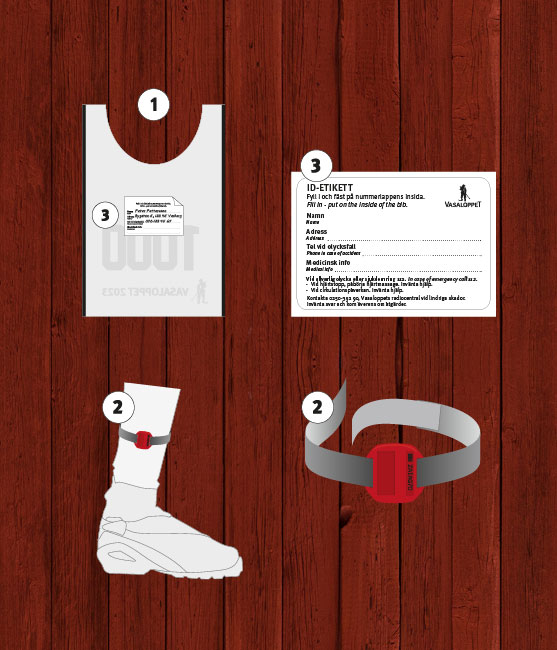 The bag contains
1. Start number
The start number should be worn, and clearly visible, when you enter the start pen.
2. Chip with velcro strap
Thread the velcro strap through the chip and attach to your right ankle. The chip is used for timekeeping and it's connected to your start number. The chip must be returned directly after the finish. Participants who do not return their chip will be charged 300 SEK.
3.  ID-tag (sticker)
Fill in your information and attach the sticker to the inside of your start number.
Waxing service
Through Vasaloppet's official wax services you can get your skis waxed before the race. Vasaloppet's wax services can be booked in advance, though the number of pre-bookings is limited.