Want to keep track of family members, friends and competitors as they struggle towards the finish line? There are several ways to follow specific participants. With our services you can receive continuous updates and time reports, and monitor as many people as you like.
Automatic monitoring through app or SMS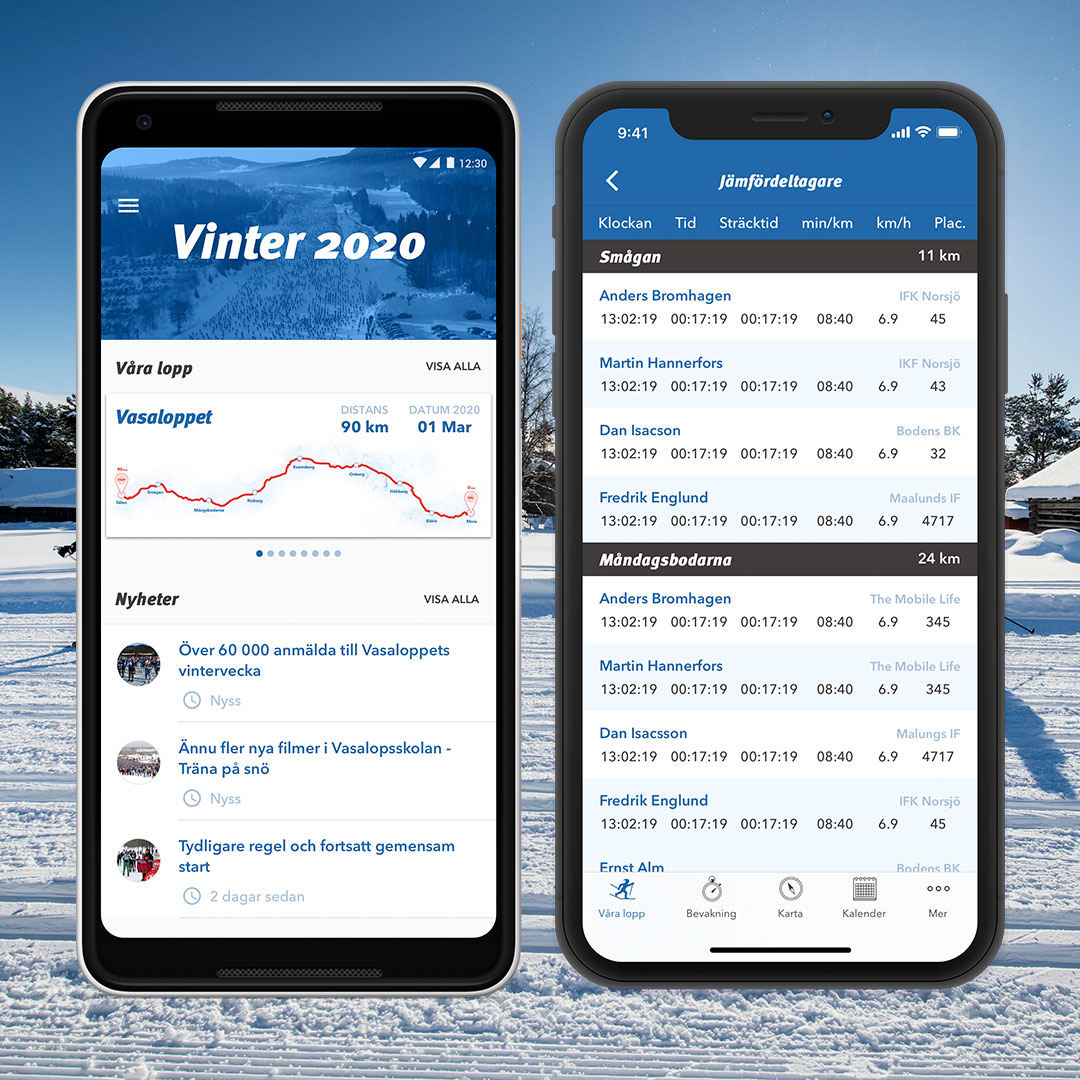 In the app Vasaloppet vinter you can find complete start lists for each event, and purchase monitoring of however many participants you would like.
For 12 SEK you get up to date push notifications with intermediary times from each Vasaloppet checkpoint as the participant passes. You will also get an estimated time for when the participant is expected to arrive at the next checkpoint, and at the finish. This time is based on average speed but does not take weather conditions or other possible factors into account. You can find participants by searching their name or club. If you purchase monitoring of several participants you can also compare times.
If you do not have a smartphone, or if you will be in a location with poor mobile data coverage (for example, along the Vasaloppet track), we instead recommend our SMS-service. Unlike the app it requires no data traffic.
How to start SMS-monitoring
Send a text message with the code of the race in question and the start number of the participant you wish to monitor. You will receive continuous updates and time reports during the race as the participant goes past each checkpoint. The SMS-service is available in Sweden and Finland. All information will be delivered in Swedish. Prices for the different races are listed below.
Country code: Sweden: 72700, Finland: 17191
Race – Code – Price
Vasaloppet 30 – VASA VL30 start number – SEK 25
Tjejvasan – VASA TV start number – SEK 25
Öppet Spår Sunday – VASA ÖSS start number – SEK 35
Öppet Spår Monday – VASA ÖSM start number – SEK 35
Vasaloppet 45 – VASA VL45 start number – SEK 25
Stafettvasan – VASA STV start number – SEK 35
Nattvasan 90 – VASA NV90 start number – SEK 35
Nattvasan 45 – VASA NV45 start number – SEK 25
Vasaloppet – VASA VL start number – SEK 35
For example, if you are in Sweden you might text "VASA VL 12488" to 72700.
Vasaloppet.TV
For the 2018 Winter Week, Vasaloppet launched, in collaboration with IBM, its very own TV channel, Vasaloppet.TV. Here you can follow and take part in everything that is Vasaloppet, summer and winter, with historical clips, training and nutritional tips and, of course, live broadcasts of the events.
Manual results service
Through our results service you can find complete start lists and results to all our races, except Barnens Vasalopp. The results are published live during the race and are searchable after the race.