Winter in Dalarna, December 1520.
"Gustav arrives to Rankhyttan, disguised as a farmer. A maid spots the gold-knit collar under his rags and collects Anders Persson (the owner of Rankhyttan) who recognizes Gustav from his study days in Uppsala. Gustav tells him of escaping King Christian II's captivity, and of the Stockholm Bloodbath. Anders Persson is friendly but does not want trouble; he asks Gustav to leave.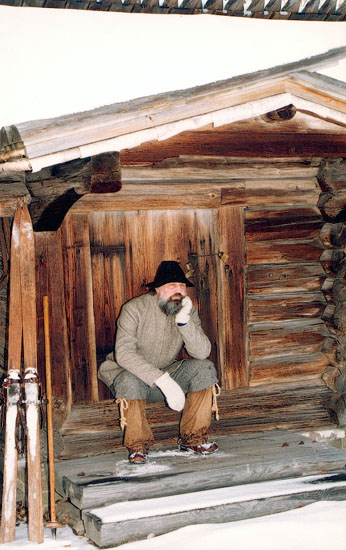 The day after, Gustav arrives in Ornäs and makes himself known to Arent Persson. Arent Persson promises to help him but instead goes to King Christian's men to tell them that the fugitive Gustav is in Ornäs. Arnet's wife suspects this betrayal. She warns Gustav, gives him a horse, carriage and servant. He goes to Reverend Jon in Svärdsjö, another old classmate, and rests there for a week.
In Rättvik Gustav speaks to the farmers and wants to know what they think of the Danish tyranny. They reply that they'd like to offer the Danes resistance, but not without hearing what farmers in other parishes think.
Gustav heads to Mora to speak to the people there. At the same time the Danish steward Henrik von Melen sends men to Mora to kill Gustav, or at least capture him. Instead Gustav kills one of them. During the Christmas weekend 1520 Gustav speaks to the people of Mora, tells them what the Danes have done, and reminds them how Danes tend to react. Do they wish to stand with him and stop the oppression? The people of Mora say no, they are loyal to King Christian. Gustav leaves Mora and heads for Norway through western Dalarna.
While Gustav was in Mora, King Christian's men came to Rättvik. The farmers overpowered them but released them after getting their assurance that they meant Gustav no harm; they had been forced to chase him. A week after Gustav leaves Mora, news arrives that King Christian will tour the country as per tradition. He's had gallows raised at each bailiff's farm.
Shortly afterwards, reports of the Stockholm Bloodbath reach Mora. The people of Mora regret turning Gustav away. Day and night some Dalarna men ski after Gustav, to catch up before he reaches Norway. They find him in Lima and promise him not only their allegiance, but also their lives if he will accompany them back to Mora. Gustav comes with them and is named, by all of Dalarna's most prominent parishes, Sweden's military commander."