2016-08-20 16:32
Jarle Risa and Jasmin Nunige won Ultravasan 2016
It was a Norwegian and Swiss victory in Ultravasan 90. Norwegian Jarle Risa crossed the finish line five minutes ahead of Fritjof Fagerlund, Rånäs 4H. Third place went to American Patrik Reagan. In the women's class, Jasmin Nunige defended her crown from last year, winning with a large margin and a new record time of 6.54.32.
There were six different nationalities among the top six runners in the men's class. British Steven Way was fourth, fifth was Belgian Wouter Decock, and sixth Estonian Erala Ranno.
The men set a good pace out of Berga By in Sälen, where the start was held at 05:00 this morning. At Mångsbodarna the leading group consisted of eight runners within 20 seconds, and one of them was IFK Mora's Jonas Buud, favourite after two straight victories and a fantastic record time of 5.45.08 last year.
But shortly before the Risberg checkpoint, Jonas Buud was forced to abort his race. The injury he sustained in his Achilles tendon a few weeks ago made it impossible to continue.
"I was very unsure before the start, but at first it was going really well. Then right before Risberg, when we were passing some ridges, it started to hurt a lot again," said Buud.
By the Risberg checkpoint, the leading group consisted of Patrick Reagan from the USA and two Swedes, Elov Olsson, Ockelbo SK, and Fritjof Fagerlund, Rånäs 4H. French Arnaud Perrignon and the eventual winner Jarle Risa were about half a minute behind.
Up towards Evertsberg, Perrignon took the lead, snatching the hill prize with a lead of 17 seconds ahead of Reagan. Fagerlund and Risa were a slim half minute behind the leading Frenchman.
Perrignon may have spent too much energy here, because things changed dramatically up to Oxberg and the tough Lundbäck slopes.
Fritjof Fagerlund showed his strength and pulled away from the others. He took a lead of 1.15 ahead of Risa. The margin down to Reagan and Perrignon was 3.00 and 3.50.
This was when Risa, who was sixth last year and third in the first Ultravasan 2014, picked up the pace and took back that minute from Fagerlund, passing the Hökberg checkpoint only 13 seconds behind. Fagerlund was starting to look worn out, turning to see the Norwegian approaching with quick steps.
Soon Jarle had passed Fritjof Fagerlund, keeping his steps light and his tempo high.
"I had more strength than Fritjof on the inclines. It felt good to make that pass," said Risa after the race, with the victory garland around his neck.
At the last checkpoint in Eldris he'd created a lead of 2.16 ahead of Fagerlund. By the finish line that margin, down to a worn out Fagerlund, had grown to over four minutes.
But 40-year-old Risa wasn't sure of his victory until about two kilometres before the finish line, when he was told how large a lead he had. The win meant a lot to Risa.
"This is the greatest thing I've done," he concluded.
Runner-up Fagerlund had this to say on his hard running after half the race:
"I took a little gamble. I came out well from the Evertsberg checkpoint, and know I run well downhill. So I thought I'd try to stretch the gap. But it didn't hold all the way. I was very tired by Hökberg."
When Jarle Risa passed it became a mental battle for Fagerlund.
"It's hard mentally to hold the lead and hope for the win and then get passed. The ending was rough for me and I really had to fight my way across the finish line. All sorts of problems sprang up. Several muscle groups in my legs were totally worn out. I even got problems with flickering and tunnel vision. It was a real struggle."
But 42-year-old Fagerlund, competing for Rånäs 4H, still took the second place with a margin of about two minutes ahead of Patrick Reagan from the USA.
The American changed socks in Evertsberg and lost a lot of time there, but then he finished strong.
"The track and audience was so fantastic and it pushed me on even though things went up and down both physically and mentally during the race. By the end I felt strong," said 29-year-old Reagan, by far the youngest in the top three.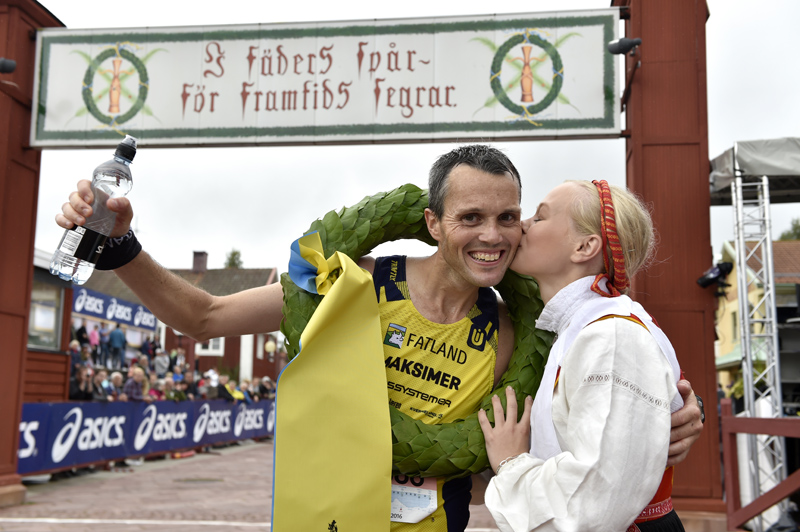 Ultravasan 90 Women's Class
Last year's winner, Swiss Jasmin Nunige, took charge directly at the start, getting American Sarah Bard along with her. Swedish marathon star Isabellah Andersson, who was making her ultra-debut, was about a minute behind.
But Isabellah passed Bard and started catching up with Nunige. In Evertsberg, halfway, Andersson was first with Nunige on her heels. Sarah Bard was then five and a half minutes behind.
A lot happened up until the next checkpoint in Oxberg. Isabellah was ahead on the downhill slopes near Vasslan but on the Lundbäck slopes she lost a lot of time and by the Oxberg checkpoint, the Swiss had taken a great lead.
When Isabellah finally reached Oxberg she was walking, together with her husband and daughter. With 30 kilometres to go, the Swedish marathon record holder aborted her race with this comment:
"My legs wouldn't run anymore. They were done. It was bad planning on my part. I should have taken it easy on the slopes."
"She ran too fast uphill," the Swiss winner said. "I told myself to keep it cool."
And so Jasmin Nunige ran alone, with a huge lead, down to Mora. In Oxberg Sarah Bard was ten minutes behind, and at the finish line the margin was 13.02.
Seasoned Nunige, born 1973, finished very strong, beating her own track record from last year by eight minutes. The new record time is 6.54.32.
"So nice to win but it was tough at the end. But 90 kilometres should be tough," Jasmin Nunige concluded.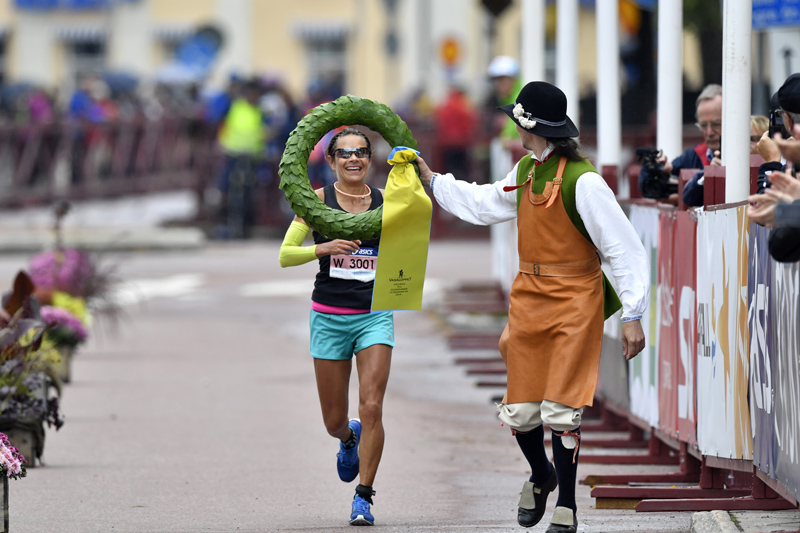 Ultravasan 45
IFK Mora's Roman Ryapolov managed what he'd set out to do in Ultravasan 45. The Russian elite orienteer, who has lived in Mora with his family for years, won the first Ultravasan 45 in 2014, and last year he came in second after Fritjof Fagerlund. This year, Ryapolov took another victory, beating Fagerlund's track record from last year by almost four minutes and winning with a time of 2.41.47. Runner-up was Örebro AIK's Erik Anfält and in third place was Norwegian Tom Erik Halvorsen.
The women's class also saw a new track record with Lisa Ring from IK Nocout winning with a time of 3.04.18. Lisa, who is only 23 years old, was sixth in the Swedish Championship marathon this year. Runner-up in Ultravasan 45 was Johanna Nilsson, Morjärv, and third was last year's runner-up Sophia Sundberg, Väsby IK.
RESULTS
Ultravasan 90 Men
1 Jarle Risa, (NOR) M40 Undheim IL 06:11:49
2 Fritjof Fagerlund, (SWE) M40 Rånäs 4H 06:16:05
3 Patrick Reagan, (USA) M21 Compressport 06:18:12
4 Steven Way, (GBR) M40 Bournemouth AC 06:21:40
5 Wouter Decock, (BEL) M21 Performance/Saucony 06:23:23
6 Ranno Erala, (EST) M40 Tele2 Eesti AS 06:25:41
7 Patrik Gustafson Björkqvist, (SWE) M45 Brittatorp TK 06:28:08
8 Elov Olsson, (SWE) M21 Ockelbo SK 06:31:06
9 Arnaud Perrignon, (FRA) M40 Team Asics 06:36:48
10 Patrik Wikström, (SWE) M21 IFK Umeå 06:37:33
Ultravasan 90 Ladies
1 Jasmin Nunige, (SUI) W40 Track Club Davos 06:54:32
2 Sarah Bard, (USA) W21 07:07:34
2 Cassandra Scallon, (USA) W21 Salomon/Boulder Track 07:27:55
4 Sofia Smedman, (SWE) W21 07:47:05
5 Aud Elisabeth Stuhr, (NOR) W40 Sauda IL 07:58:57
6 Stina Höglund, (SWE) W21 Skellefteå AIK Friidrott 08:07:39
7 Kerstin Rosenqvist, (SWE) W40 Västerås Löparklubb 08:08:07
8 Sylvaine Cussot, (FRA) W21 Team Asics Trail 08:11:30
9 Eva Öhlund, (SWE) W40 IK Hakarpspojkarna 08:24:04
10 Jenny Ramstedt, (SWE) W40 FK Studenterna 08:28:01
Ultravasan 45 Men
1 Roman Ryapolov, (RUS) M21 IFK Mora OK 02:41:47
2 Erik Anfält, (SWE) M40 Örebro AIK 02:45:25
3 Tom Erik Halvorsen, (NOR) M35 GTI-Friidrettsklubb 02:46:58
4 Joacim Lantz, (SWE) M21 Ockelbo SK 02:49:00
5 Gjermund Sörstad, (NOR) M35 IF Sturla 02:55:21
6 Erik Folkesson Blom, (SWE) M21 IFK Mora OK 02:58:41
7 Niclas Sjögren, (SWE) M45 Enhörna IF/Runacademy 02:59:35
8 Daniel Bodare, (SWE) M35 IK Arn 03:08:20
9 Robert Berg, (SWE) M40 03:11:00
10 Johan Gustafsson, (SWE) M45 IFK Mora FIK 03:14:06
Ultravasan 45 Ladies
1 Lisa Ring, (SWE) W21 IK Nocout.se 03:04:18
2 Johanna Nilsson, (SWE) W35 Morjärv SK 03:13:41
3 Sophia Sundberg, (SWE) W21 Väsby IK 03:14:48
4 Susanne Liukkonen, (SWE) W40 IF Strategen 03:30:51
5 Åsa Vallin, (SWE) W40 Ekerö Runners 03:32:30
6 Helen Belfrage, (SWE) W21 Ekerö Runners 03:36:09
7 Anna Sandberg, (SWE) W21 03:36:29
8 Charlotte Löjdquist, (SWE) W21 03:38:49
9 Gunilla Ekholm, (SWE) W45 IK Akele 03:41:52
10 Åsa Holmqvist, (SWE) W40 03:41:53
Footnote: Ultra is the designation for races longer than the marathon distance of 42,195 metres.
NOTE! See passing times and all results
Vasalopps TV will be broadcasting summaries from Ultravasan 2016
Vasalopps TV Saturday 20 August 2016 (21 minutes):

Previous Ultravasan winners
Ultravasan 90, Men
2014 Jonas Buud, IFK Mora FK (SWE), 6.02.03
2015 Jonas Buud, IFK Mora FK (SWE), 5.45.08 (Record time)
Ultravasan 90, Ladies
2014 Holly Rush, Team Bath AC (GBR), 7.09.04
2015 Jasmin Nunige, Switzerland (SUI), 7.02.35
Ultravasan 45, Men
2014 Roman Ryapolov, IFK Mora FK (RUS), 2.49.47
2015 Fritjof Fagerlund, Rånäs 4H (SWE), 2.45.30
Ultravasan 45, Ladies
2014 Gloria Vinstedt, Sweden (SWE), 3.28.13
2015 Caroline Dubois, France (FRA), 3.13.22
Registration for Vasaloppet's Summer Week 2017
Opens on Sunday September 18, 2016, at 09.00 on vasaloppet.se
Welcome to Vasaloppet's Winter Week 2017
Fri 24 Feb: Kortvasan. 30 km. Start Oxberg.
Sat 25 Feb: Tjejvasan. 30 km. Start Oxberg.
Sun 26 Feb: Ungdomsvasan. 3, 5, 7 or 9 km. Start Mora Ski Stadium.
Sun 26 Feb: Öppet Spår Sunday. 90 km. Start Sälen.
Mon 27 Feb: Öppet Spår Monday. 90 km. Start Sälen.
Tue 28 Feb: Halvvasan. 45 km. Start Oxberg.
Fri 3 Mar: Stafettvasan. 9–24 km. Five-person teams. Start Sälen.
Fri 3 Mar: Nattvasan. 90 km. Two-person teams. Start Sälen. (1,500 entries. FULL 20/03/2016)
Sat 4 Mar: Öppet Spår 9 km. 9 km. Start Eldris.
Sun 5 Mar: Vasaloppet. 90 km. Start Sälen. (15,800 entries. FULL 20/03/2016)