2019-11-15 09:19
Vasaloppet news for 2020: Medals for all!
Getting a medal after finishing is an important symbol for many race participants. Vasaloppet has previously only awarded medals in certain races but Vasaloppet leadership has decided that from Vasaloppet's Winter and Summer Weeks 2020 all participants who complete their races will receive a medal. Three different categories of medals will be awarded: Placement medals, Achievement medals and Participation medals, all in a new design with a nice new ribbon. The purpose is to strengthen the ceremony at the finish and give everyone the attention they deserve. At the same time participants can choose not to receive their medal if they do not want one.
Placement medals
From 2020 placement medals of gold, silver and bronze will be awarded to the first, second and third placed participant in the six individual competition races; Vasaloppet, Tjejvasan, Cykelvasan 90, Ultravasan 90, Ultravasan 45 and Trailvasan 30.
Achievement medals
Achievement medals are awarded in Vasaloppet and Ultravasan 90. In Vasaloppet achievement medals have been awarded since 1923 to those who finish within the winning time + 50 percent.
In Vasaloppet 2019 there were 1,926 men who received medals. The medal time in 2019 was 6.58.53 because Tore Björset Berdal's winning time was 4.39.15. 118 ladies also received medals in Vasaloppet 2019. The medal time in 2019 for ladies was 7.21.37 since Britta Johansson Norgren's winning time was 4.54.24.
In the running race Ultravasan 90 achievement medals are awarded to those who finish within 9.5 hours (men) and 11 hours (women).
Participation medals
Participation medals are awarded in all Vasaloppet races to all other participants (those who do not get placement or achievement medals) who complete their races.
Ribbon from Kranskulla costume
The medal ribbon has a pattern inspired from one of the ribbons used in the Mora folk costume. Vasaloppet has chosen the ribbon that is part of the apron and bag of the Kranskulla costume belonging to Vasaloppet.
The new medals will not change from year to year; a decision made with sustainability factors in mind. Medals not awarded in 2020 can be saved for 2021 and so on. Any participant who does not want a medal can simply decline to accept one after finishing.
Diplomas are also awarded to all participants (excluding Blåbärsloppet).
Previously there are also 10 and 20-year medals for those who have completed Vasaloppet or Öppet Spår 10 or 20 times (one race per year counts). Those who have completed Vasaloppet or Öppet Spår 30 times are awarded a veteran medal, while those who have completed 40 or 50 races are awarded a special plaque. From 2020 Nattvasan 90 will also count towards a medal year.
FACTS/ Vasaloppet's new medals – material, design and size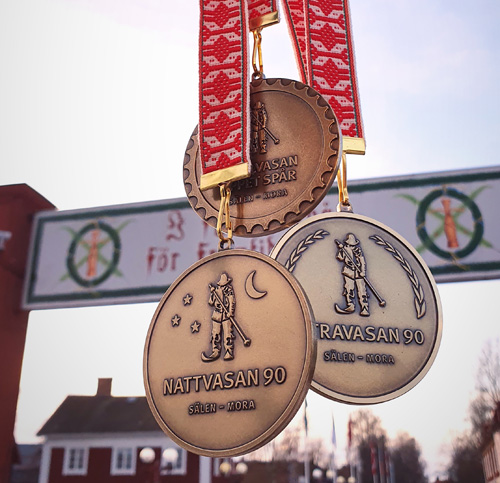 – The medals are made out of brass, consisting mostly of recycled copper.
– On the medal front is the stylized picture of Gustav Vasa. On the back is the motto "I fäders spår för framtids segrar" (Swedish for "In forefathers' tracks for future victories").
– All medals for the 90-kilometre races are 60 millimetres in diameter.
– The achievement medal differs from the participation medal in that it is rimmed with gold.
– Medals for the shorter races are 45 millimetres in diameter.
Footnote from Vasaloppet history:
At the very first Vasaloppet in 1922 everyone who completed the race received a commemorative coin. For the second race in 1923 it was established that the maximum time to receive the commemorative coin was the winning time + 50 percent. The newspaper Dalpilen commented: "After what we saw last year it seems that this limitation is, for most people, of little or no importance."
Upcoming events in the Vasaloppet Arena
Vasaloppet's Winter Week 2020
Fri 21 Feb: Vasaloppet 30 (formerly Kortvasan). 30 km. Start Oxberg
Sat 22 Feb: Tjejvasan. 30 km. Start Oxberg
Sun 23 Feb: Ungdomsvasan. 9/19 km Start Eldris/Hökberg
Sun 23 Feb: Öppet Spår Sunday. 90 km. Start Sälen
Mon 24 Feb: Öppet Spår Monday. 90 km. Start Sälen
Tue 25 Feb: Vasaloppet 45 (formerly Halvvasan). 45 km. Start Oxberg
Fri 28 Feb: Stafettvasan. 9–24 km. Five-person teams. Start Sälen
Fri 28 Feb: Nattvasan 90. 90 km. Two-person teams. Start Sälen
Fri 28 Feb: Nattvasan 45. 90 km. Two-person teams. Start Oxberg
Sat 29 Feb: Blåbärsloppet. 9 km. Start Eldris
Sun 1 Mar: Vasaloppet. 90 km. Start Sälen (FULLY BOOKED)
Vasaloppet's Summer Week 2020
Fri 14 Aug: Cykelvasan Öppet Spår. 94 km. Start Sälen
Fri 14 Aug: Cykelvasasprinten. 1 km. Lindvallen. Start Sälen
Sat 15 Aug: Cykelvasan 90. 94 km. Start Sälen
Sun 16 Aug: Cykelvasan 30. 32 km. Start Oxberg
Sun 16 Aug: Ungdomscykelvasan. 32 km. Start Oxberg
Sun 16 Aug: Cykelvasan 45. 45 km. Start Oxberg
Sat 22 Aug: Trailvasan 30. 30 km. Start Oxberg
Sat 22 Aug: Ultravasan 45. 45 km. Start Oxberg
Sat 22 Aug: Ultravasan 90. 90 km. Start Sälen
Sat 22 Aug: Vasastafetten. 90 km. Running relay for ten-person teams. Start Sälen
Sat 22 Aug: Vasakvartetten. 90 km. Running relay for four-person teams. Start Sälen
Vasaloppstrippeln 2020
Vasaloppstrippeln 30. Vasaloppet 30 (formerly Kortvasan) or Tjejvasan + Cykelvasan 30 + Trailvasan 30
Vasaloppstrippeln 45. Vasaloppet 45 (formerly Halvvasan) or Nattvasan 45 + Cykelvasan 45 + Ultravasan 45
Vasaloppstrippeln 90. Vasaloppet or Öppet Spår Sunday or Öppet Spår Monday or Nattvasan 90 + Cykelvasan 90 or Cykelvasan Öppet Spår + Ultravasan 90